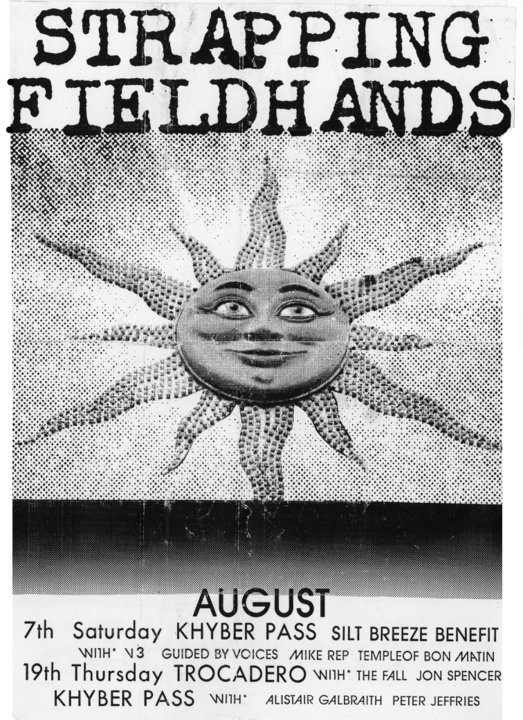 Two live shows from the Strapping Field Hands from 93 and 94. The 93 show was opening for Alastair Galbraith and Peter Jefferies' first tour of America. (I'm going to put up their part of the show soon) I actually had to tape over part of Strapping because I filled up both 90 minute cassettes and Peter Jefferies was still playing. The second show from 94 they were opening for Guided By Voices – both shows were packed shows at the Khyber (which means you couldn't physically fit another person through the door.) Strapping Field Hands were probably the biggest band in Philly during those years and always opened for everyone really interesting coming to Philly. They have reformed and you can check out what's going on with them at
Here's an interview with Bob from Strapping on the Nice Popper zine site.
A couple of the songs I wasn't sure of the titles if someone lets me know what the titles are I'll update the post.
Khyber August 19 1993
01-When You Came
02.-?
03-Mysterious Girl
04-Just Too Much
05-Eggs In The Reservoir
06-Garden Of Earthly Delights
Khyber August 06 1994
01-Eggs In The Reservoir
02-Red Dog And The Deconstructor
03-withMikeRepSong.mp3
04.-?
05-Looking Into The Sun
06-He's Right_GBV cover