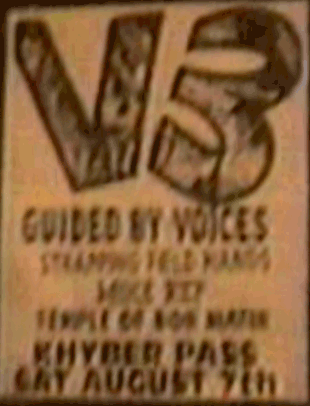 Strapping Field Hands from Siltbreeze night at the Khyber with Temple of Bon Matin, Mike Rep, V-3 and GBV, Just once I would like to figure out all the song titles. But song 5 which is a song I remember them doing all the time but can't figure out the title and the last song, I can't figure out. If anyone can fill me in on the titles please leave a comment.
Thanks to Mark Lux for the tapes & Jacy for the missing song titles.
Strapping Field Hands – Khyber 08/07/1993 Siltbreeze Show
Audio files
01 – Just Too Much
02 – Red Dog The Deconstructor
03 – Lonnie Donnegan's Mum's Tea Chest
04 – Boo Hoo Hoo
05 – ?
06 – Stacey Donnelly
07 – Aeroplane Ticket
08 – ?