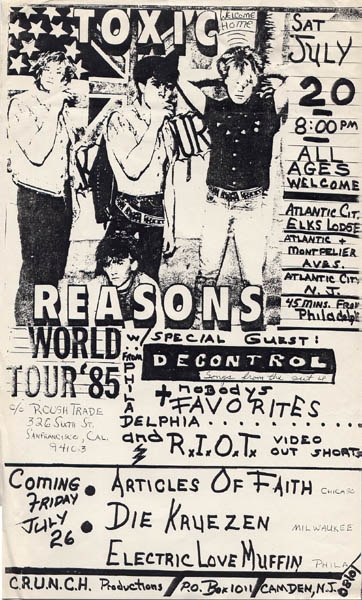 Decontrol live video from Elk's Lodge in Atlantic City from July 20th 1985. The show was Decontrol, Toxic Reasons & Nobody's Favorite.Unfortunately I don't have Nobody's Favorite video from that show. Decontrol has a recent album Thoughts & Prayers or go get Songs from the Gut The Complete Collection
If your on Facebook go to their page and "like" the page
Below the videos are the audio tracks. As usual there is one song left I don't have the title for hopefully someone will fill me in on it and I'll update the post.
Thanks again to Pete at Sounds of Tomorrow for the beta tapes and Dave thanks for filling in the song titles
Video Tracklist & Audio files
1 – Bunker
2 – Too Much Pressure
3 – Drunk Again
4 – What You Gonna Do
5 – Pillhead
6 – Death Wish
7 – ?
8 – Depraved Condition
9 – This Doomsday
10 – Philly Cops
11 – Hoiliday In New Jersey
12 – We Are All Prostitutes
13 – Fascists_Paint It Black
14 – Suburban War
15 – Dead Life
16 – Born To Be Wild
17 – Back From The Grave
18 – 1992
19 – Jack The Ripper
20 – Summertime Blues