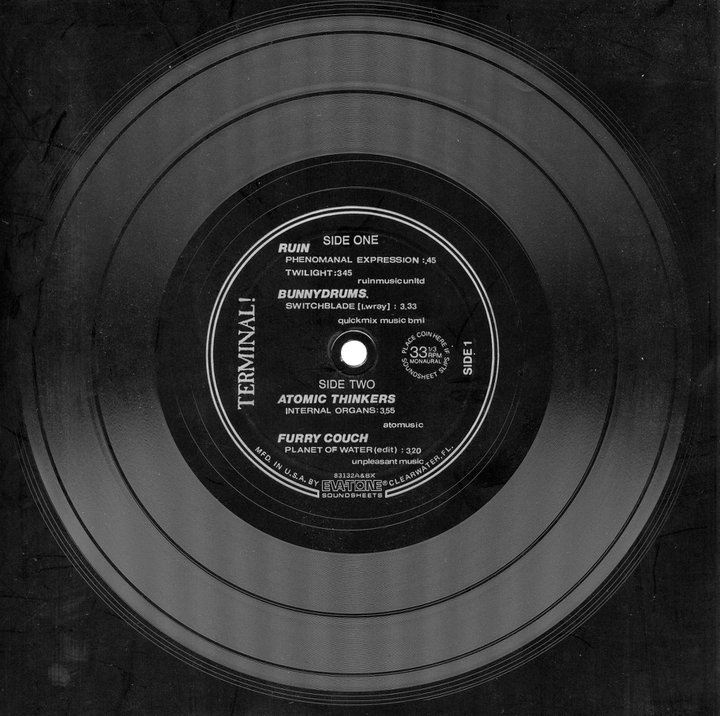 Some more Ruin releases the first is a flexi disc that came with Terminal Magazine. There are two Ruin tracks and then some other bands (I included all of them here.) The second is the White Rabbit demo tape which came out before Fiat Lux. I didn't have a cover for my tape but I found the picture on the Ruin Discography site Songs of Ruin.
On that site it says the tape is only the cover of White Rabbit but my tape had three songs. That version of White Rabbit was used on the cd.
Here are some quotes from the members of Ruin on this flexi and tape:
"flexi was before heho, before the compilation [proof] recording was done at some small studio if i remember correctly [that was actually someone's attic] I don't remember 13th & samson- i remember the attic first, & later in someone living room studio [proof first recording]" – Richard Hutchins (drummer/percussionist)
"I don't recall who engineered it or where. Obviously it was Ruin's first release. I got a kick out of hardcore punk being on the same disc as experimental abstract music (Furry Couch). Reflected my own schizoid tastes for such sounds.
Thanks again. Please post on Ruin's facebook page when published. Cheers, " – Taum
"Did we record the flexi disk material at the 13th and Samson St. studio? I can't recall. It was prior to the release of the HE HO record if I recall correctly. Terminal magazine was run by Carol Shutzbank and Steve Fritz" – Damon Wallis
Besides that I throw in a couple more tracks one is the version of White Rabbit from Fiat Lux (I figured if you have the cd you might want this version as well) Second is a cover of Hero by Superchunk. It's from an ep called The Laughter Guns EP. I sort of remember hearing that the drummer from Superchunk grew up in Philly and was a fan of Ruin. Besides that I fond some more Flyers, t-shirt picture from the reunion shows, an insert that I found and am not sure where it came from plus this interview from an old zine Rodman Rave click here to view it
I'm working on some Ruin video from a show from 1986 hopefully I will get that up soon.
Thanks to Brett for letting me borrow the flexi.
Terminal Flexi
A1 Ruin – Phenomenal Expression
A2 Ruin – Twilight
A3 Bunnydrums – SwitchBlade
B1 Atomic Thinkers – InternalOrgans
B2 Furry Couch – PlanetOfWater
White Rabbit Demo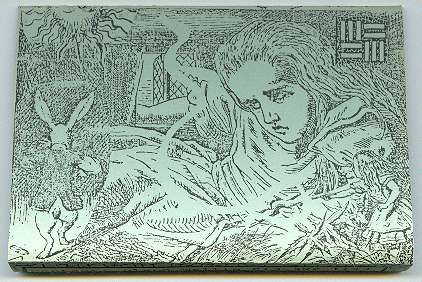 01 LifeAfterLife
02 WhiteRabbit
03 Proof
Extra mp3's
Whtie Rabbit (Fiat Lux Version)
Super Chunk covering Hero
Maximum Rocknroll #21 Review