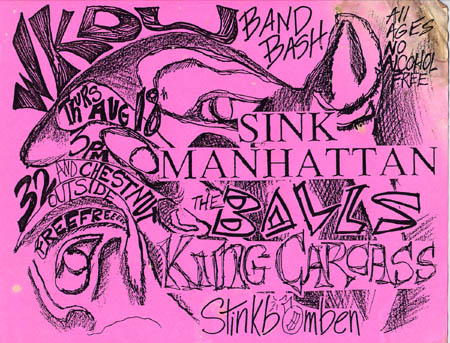 I don't have much info on the Balls. All I know is that I saw them a few times in the late 80's and they were on Discpan Hands. But it was great to have a local band heavily influenced by the Meat Puppets. So here are their two demo tapes one from 86 & the other from 87. If anyone knows more info about the Balls please add it to the comments or email it to me.
Updated info (Thanks Bob)
Steve Maglio – guitar)
Dave Eisenhower – drums)
John Swana – bass – later it was Jim Stager (Huffamoose) and then Bill Comins
Steve Maglio and Jim Stager along with DJ Bonebrake (X) can be heard (recently) on this album.
Audio files
Demo 86
01 – Moscow
02 – Song In F
03 – Gina Marie
04 – 221
05 – Full Circle
06 – Brenda
Demo 87
01 – I
02 – Tenths
03 – Niner Thousand
04 – Colorado Bound
05 – Jane
06 – Any Time At All
07 – Shade
08 – Moscow