M-Fakter video from the Lee Paris/PCHA benefit show – Houston Hall, U of Penn 05/03/86
Thanks to Flipo from the Excuses for the video.

Philly band started in 1983 by Dan McKay on guitar, bass & synth and Paul Della Pelle (Ruin, Helios Creed, Jello Biafra & The Guantanamo School Of Medicine, Nik Turner ) on drums, percussion & vocals as an experimental music performance project. Bassist Clennie "Pop" Lewis was added shortly after then they released this 7″ in 1984. Multi-instrumentalist Doug Hilsinger (Bomb, Gift Horse) on guitar, synth, drums & vocals was added to the group in 1986 to round out the sound and to provide a more dynamic live stage show.
Check out their Reverbnation page, that I stole the band info above from.
A – War Dance
B – Macro Biotic Funk
M-Fakter – WKDU Band Bash October 5, 1985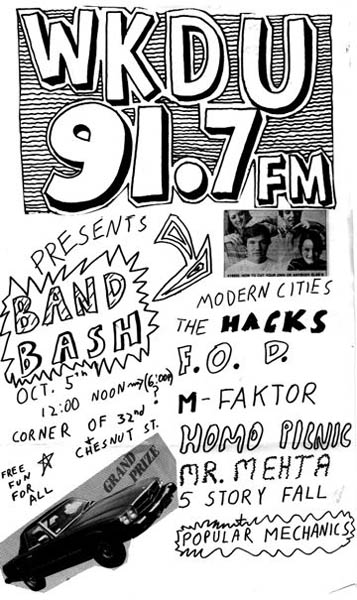 WKDU free band bash from October 1985. There were a lot of bands at this show – most of the Video is of Homo Picnic and 5 Story Fall but there is also some of Oblivion, M Fakter, and Ambush Bugs. Apparently more bands where going to play (Dead Milkmen plus others) but the company doing the sound and/or Drexel security pulled the plug. At the end of the 2nd Homo Picnic clip there is a short interview with them. I just realized I forgot to try and figure out the song titles (if anyone knows them please add them in a comment) Also if anyone has the 5 Story Fall demo please let me know it would be great to put those up.
Thanks to Val for the video
5 Story Fall
Homo Picnic
Oblivion
Ambush Bugs
M-Fakter
Audio files
5 Story Fall – 01
5 Story Fall – 02
5 Story Fall – 03
5 Story Fall – 04
5 Story Fall – 05
5 Story Fall – 06
Fabulous Fondas – 01
Homo Picnic – 01
Homo Picnic – 02
Homo Picnic – 03
Homo Picnic – 04
Homo Picnic – 05
Homo Picnic – 06
M Factor – 01
Oblivion – 01
Oblivion – 02