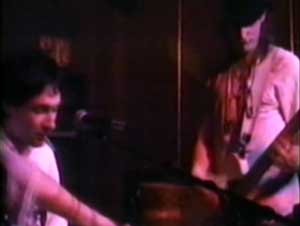 Alastair Galbraith & Peter Jefferies from (I believe) their first tour of America. This was recorded in the audience at the Khyber on 8/19/93. I tired to figure out all of the titles but both of them were in a lot of bands and other projects so I couldn't get them all. If anyone can fill the titles in please let me know. I was and still am a big fan of New Zealand music and they were in some of the best bands like Nocturnal Projections, Plagal Grind, A Handful of Dust, The Rip, This Kind of Punishment and all of their solo albums and projects. I skipped going on a vacation road trip because this show was happening while I was supposed to be on vacation. The show turned out to be worth missing the trip. If you want to check out more this is Alastair Galbraith on Siltbreeze's site and Peter Jefferies' site
Also here is a pdf of an interview with Peter Jefferies from a New Zealand zine Alley Oop
Thanks to Jim for the updates on the Peter Jefferies song titles.
Audio files – Peter Jefferies
Peter Jefferies – 01-Chain Of Reaction
Peter Jefferies – 02 – Difficult Days (originally by his first band Nocturnal Projections)
Peter Jefferies – 03 – Slow Motion (a Leo Sayer cover !)
Peter Jefferies – 04-Electricity
Peter Jefferies – 05-Don't Look Down
Peter Jefferies – 06-Some More Than Others
Peter Jefferies – 07-Ahead Of Their Time
Peter Jefferies – 08-Wined Up
Peter Jefferies – 09-A Chorus Of Interludes
Peter Jefferies – 10-(Medley)
Peter Jefferies – 11-On An Unknown Beach
Peter Jefferies – 12-fate of the human carbine
Audio files – Alastair Galbraith
Alastair Galbraith – 01-Screaming E
Alastair Galbraith – 02-Cranes
Alastair Galbraith – 03-Milky Milo Man
Alastair Galbraith – 04-Starless Road
Alastair Galbraith – 05
Alastair Galbraith – 06-Ivy Bound
Alastair Galbraith – 07-Yes Jazz Cactus
Alastair Galbraith – 08-As In A Blender
Alastair Galbraith – 09-Hawks
Alastair Galbraith – 10-Semaphone
Alastair Galbraith – 11-Vincent
Alastair Galbraith – 12
Alastair Galbraith – 13
Alastair Galbraith – 14-Warden Tie
Alastair Galbraith – 15
Alastair Galbraith – 16
Alastair Galbraith – 17-Huxley
Audio files – Alastair Galbraith & Peter Jefferies
Galbraith_Jefferies – 01
Galbraith_Jefferies – 02-Couldn't Write A Book
Galbraith_Jefferies – 03-Marquesite Lake
Galbraith_Jefferies – 04-Timebomb
Galbraith_Jefferies – 05-Scissors
Galbraith_Jefferies – 06-Domestica
Galbraith_Jefferies – 07-An Open Denial(cutOff)
Galbraith_Jefferies – 08-Other Side Of Reason